A service delivery protest over lack of housing that almost brought economic paralysis and saw a week-long vehicular and road blockade of the major N2 arterial route between the towns of Mtubatuba and Hluhluwe two years back, has had a happy ending.
Today, Sunday 08th November 2020, the KwaZulu-Natal Government under the auspices of the Provincial Executive Council's Social Cluster are handing over 100 completed housing units of the total 500 units making up the Mfekayi Operation Sukuma Sakhe Intervention.

The 500-units OSS Intervention straddles six Wards of Mtubatuba Municipality including Ward 10 in the Mfekayi area which had been the focal point of the week-long crippling service delivery protest over housing in June 2018.

The intervention of the 500 units is mainly in Wards 7, 8, 9, 11 and 12.

Members of the Provincial Executive Council serving in the Social Protection, Community Human Development Cluster and uMkhanyakude District Mayor Councillor S. Mkhombo together with Mtubatuba Municipality Mayor Councillor V.T. Ncamphalala, are jointly officiating during the hand-over of the Mfekayi OSS Intervention Housing Project.

The Social Cluster is led by its Chairperson, Human Settlements and Public Works MEC NP Nkonyeni accompanied by MEC for Agriculture and Rural Development B. Sithole-Moloi together with MEC for Arts, Culture, Sport and Recreation H. Mavimbela as well as MEC for Social Development N. Khoza and MEC for Transport, Community Safety and Liaison B. Ntuli.

As per the Memorandum of Understanding between the Departments of Human Settlements and the Department of Agriculture and Rural Development, this event also sees the handing over of agricultural and garden implements and inputs to beneficiaries as part of the One Home One Garden programme of the Department of Agriculture and Rural Development.

The Department of Human Settlements is also handing over a composite title deed to the Mtubatuba Municipality for a 47-hectare farm in Nkodibe area of Ward 6 bought by the Department for Housing Development.

The Department of Sport and Recreation handed over sporting kits to local sporting teams of Ward 10 in Mtubatuba Municipality.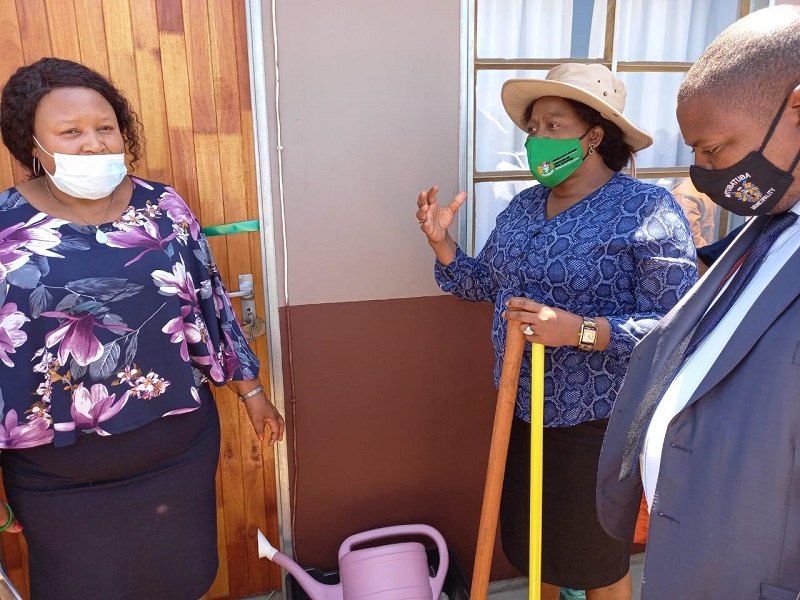 One home one garden and house handover to KwaMthiyane family at Imfekaye, uMtubatuba, ward 10